On the 6th of November 2015, CBP was presented to the local community, as a nearby high school visited the CBP lab. Students were particularly intrigued by the process of the EEG, the results of the project and the state-of-the-art EEG acquisition system.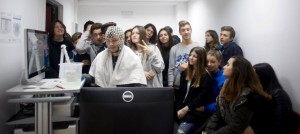 ---
The CBP project was presented on the 25th of September 2015, during the event of Researcher's Night Greece, which took place in Warehouse C. CBP had the oppurtinity to disseminate its results to Thessaloniki's citizens of all age groups, in an enterntaining and educative exhibition.
---
The CBP project was presented on the 18th of June 2015, during the 15th year anniversary of CERTH. CBP had so far demonstrated diverse and high-impact research activity in interdisciplinary, international journals and conferences, and effectively disseminated these results during the organised demo.
---
The CBP project was presented on the 15th of May 2015, as part of the "Open Day 2015 for the public and enterprises", organized by the Information Technologies Institute. Participants had the oppurtinity to come in touch with the equipment and participate in different visual attention tasks.
---
The CBP project was presented on the 15th of October 2014, during the Workshop in Memory of Maria Petrou. Dr. I. Kompatsiaris had the chance to present 3D Vector Field Tomography to the partipants and discuss about its serving to Cognitive Signal Processing.
---
The CBP project participated with a special demo, at the event of Resercher's night Greece, on the 24th of September 2014. During the night, the researchers disseminated the outcomes of the projects to the wide audience of Thessaloniki.
---
The state-of-the-art EEG acquisition system and the actions within CBP were presented at the INFO DAY on the new EU Framework Programme on Research and Innovation "Horizon 2020", in the frame of European Council exposition of CERTH technologies, March 15th, 2014
---
The CBP was presented on the 2nd of July 2013, to the "New Technologies on Ageing" Open Day, organized by the MOBISERV project of the Department of Informatics of the Aristotle University of Thessaloniki in cooperation with the Greek Association of Alzheimer's Disease and Related Disorders.